What's Surbo?
The Surbo is an air-jetting vortex charger that increases air flow during acceleration, to match the rapidly increasing fuel pressure then, for more engine power and fuel economy.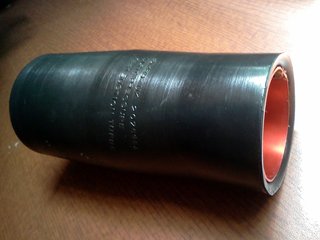 Above: Surbo in supplied rubber housing.
Summary of how Surbo works
The Surbo is activated by engine back-pressure.

1. During acceleration, by creating an engine back-pressure by slightly easing off the accelerator,

2. the Surbo produces cross-flow jets from initially straight air flow

3. a vortex within the Surbo forms due to the air twisting to become jets

4. upon subsequent acceleration with just half throttle, due to the air pressure ahead, the air must keep crossing so jets remain and so does the vortex, resulting in another air suction force in addition to the manifold vacuum, for higher air flow and greater engine power.
Press less, get more?
By points 1-4, the Surbo is the only device that gives you more engine power, by pressing less! In fact, the rpm limit can be reached with just 1/2 throttle! That's how it saves you fuel, and cuts emissions because less of the accelerator needs to be pressed.
Quality
The Surbo comes with ISO 9001 anodized colour coating for a lasting, washable finish. Its metal is factory-stamped and brand-marked. Its moulded rubber adapters are SIRIM-certified.
Test Results
Dynamometer test results
Examples of Surbo installation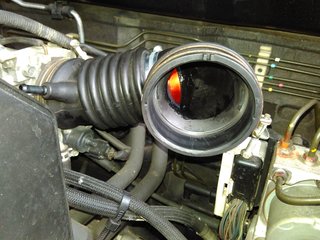 Above: Photo of Surbo in pipe after the air filter
of Mitsubishi Lancer CS3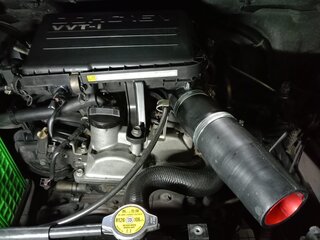 Above: Photo of Twin Surbo on Daihatsu Terios/ Toyota Rush
More Surbo Installation Pictures
Related pages:
Surbo System's Energy Analysis
How Surbo transforms your car:
Above: video of Volvo XC90 T8 with Surbo, sprinting to 130 kph.
Above: video of Volvo XC90 T8 with Surbo, sprinting to 211 kph.
Above: video of Volvo XC90 T8 with Surbo, sprinting to 224 kph.
TESTIMONIALS:

BENEFITS:
VEHICLES FITTED BY TYPE:
TECHNICAL INFO:
Less knock (allows lower octane)
ABOUT US:
SALES:
On-site service in Singapore:
The above is available at $30 per trip (non-refundable). This is waived if you have 2 cars installing the Surbo at the same place and time.