Perodua Kenari test:

In plain text from source (scanned original email)
Hi, I'm Nizam from Perak
Purchased and installed Surbo to my car Wira 1.5 since year 2000 aiming to reduce my petrol consumption, because I travelled approx. 130km daily. Then later that car was sold in year 2006. Before selling the car, I dismantled the Surbo unit and kept it inside a cabinet, then later forgot where I kept it.
In the year 2008, I installed the NGV system in my Perodua Kenari and of course, it was going to sharply reduce the cost of fuel and $$$. After 8 months using the NGV, last month, I suddenly found the Surbo unit and installed it to my Kenari...
...Fullamak, it was totally different in torque (pick-up) and in top speed. The car picked-up easily to 80 kph under normal driving conditions. About top speed, it allows you to accelerate in top gear (fifth gear) from 90 kph to 120 kph in one single shot. It was real man. An NGV vehicle equipped with Surbo is really different and better to drive.
This is good info for your business.
Evaluate it yourself first, and you will know about it.
Regards
Zuhairi Nizam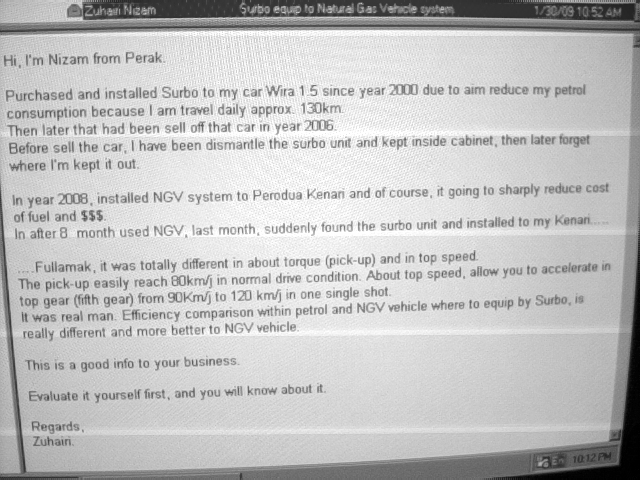 How Surbo transforms your car:
TESTIMONIALS:
TECHNICAL INFO:
Less knock (allows lower octane)
BENEFITS:
VEHICLES FITTED WITH SURBO:
ABOUT US:
SALES: