Kia Cerato 1.6 test:

In plain text from source (scanned original email)
Hi Heng
Your Twin Surbo really works great on my Kia Cerato 1.6L. Good low-end torque, responsiveness and mid-range power. Seems like transforming my 1.6L to 1.8L or even 2.0L. Now I can travel easily side-by-side with those large displacement (>2.0L) cars when moving off from traffic lights without stepping too much on the gas pedal (which is $$$ considering recent fuel prices).
The Cerato is a very solid, heavy car (>1.25 tonnes) and with my new heavy 17" wheels, low-end (<3000 rpm) torque is even more critical for my car. Actually, earlier I regretted fitting the massive 17" wheels with low profile wide tyres...but now I think my choice was right...Surbo provides the POWER and the 17" tyres provide the control. As we all know: "Power without Control is Nothing".
When I'm in the mood for some fast driving, I love the press-release-press cycles to build up air pressure in the Surbo before going for the "rocket launch". I'm having lots of fun with Surbo!
Best Regards
SK
Sembawang, Singapore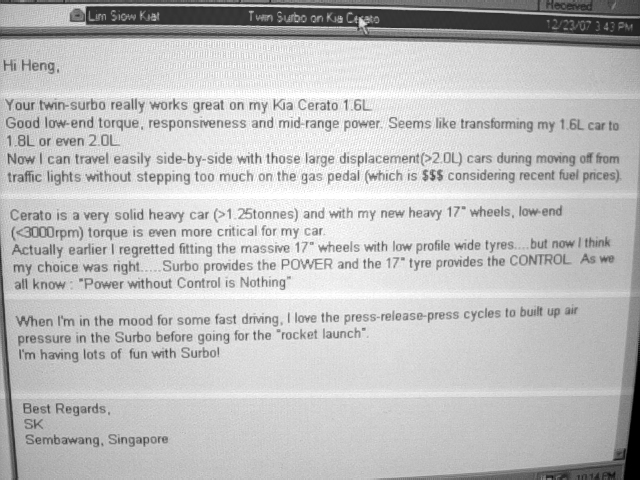 How Surbo transforms your car:
Faster acceleration, especially from standstill for automatic cars
Higher RPM capability, rev limit possible with just 1/2 throttle!
The Twin Surbo, 2 Surbos in series for even more low rpm torque
How Surbo increases engine compression at low rpm and prevents excessive compression at high rpm
How Surbo's increased air density enhances diesel technology, and raises peak RPM
Buy Surbo online with installation guide, if there's no dealer near you
Aftersales service and advice, on accessories or compatible vehicles
User testimonials (with original source):
If you find this website helpful, please tell someone!