Proton Iswara 1.3 test:

In plain text from source (scanned original email)
Question: can you help on getting me a second Surbo? I've already installed a single Surbo in my 1.3 Proton Iswara within the inlet hose of my modified air filter (elbow). Is there any chance that you have an extended arm to join with my air filter elbow because the second Surbo does not fit (elbow too short)...???
But I tell you the 1st Surbo indeed gives my car better performance...along with my exhaust system (JASMA) the combination gives my car better acceleration and speed. I've tested (sprint) my car with a Proton Putra (standard) and a detomaso GTti Turbo and the result was that the owners of those cars were very surprised at my car's acceleration power. I've beaten the Proton and the turbo car just beside me (gear 1-2-3). I've made some other adjustments though (performance parts) on my car but Surbo is the real thing that makes my car faster. I can't wait to install my car with the second one (Twin Surbo). If you have the answer please tell me (call if you can).
Iqbal Dinzly
Ipoh, Perak, Malaysia
Surbo Engineering's comments: To connect another Surbo, please refer to our Twin_Surbo-ready pipe design. You may have to modify your existing pipe to join a pipe section for the upper Surbo. It's best to look for a local car shop to make this pipe for you as it must join with your existing pipe.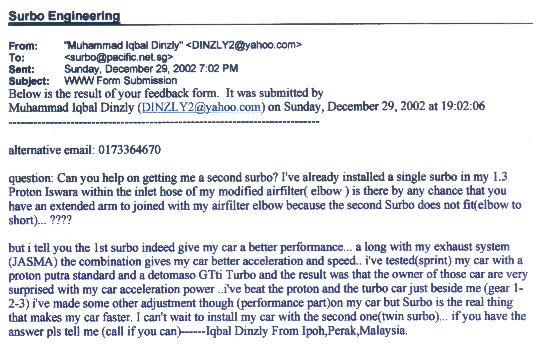 How Surbo transforms your car:
Faster acceleration, especially from standstill for automatic cars
Higher RPM capability, rev limit possible with just 1/2 throttle!
The Twin Surbo, 2 Surbos in series for even more low rpm torque
How Surbo increases engine compression at low rpm and prevents excessive compression at high rpm
How Surbo's increased air density enhances diesel technology, and raises peak RPM
Buy Surbo online with installation guide, if there's no dealer near you
Aftersales service and advice, on accessories or compatible vehicles
User testimonials (with original source):
If you find this website helpful, please tell someone!