Opel Vectra test:

In plain text from source (scanned original email)
Dear Heng
My Opel Vectra, which I DIY fitted from one Surbo to a Twin Surbo following your instructions, gave me better result on the fuel. With one Surbo my FC was 9.8 km per litre, and with the Twin, I am now getting 10.6 km per litre. I am happy with the result.
Thank you
Wong
Singapore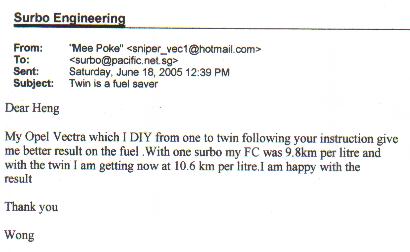 How Surbo transforms your car:
Faster acceleration, especially from standstill for automatic cars
Higher RPM capability, rev limit possible with just 1/2 throttle!
The Twin Surbo, 2 Surbos in series for even more low rpm torque
How Surbo increases engine compression at low rpm and prevents excessive compression at high rpm
How Surbo's increased air density enhances diesel technology, and raises peak RPM
Buy Surbo online with installation guide, if there's no dealer near you
Aftersales service and advice, on accessories or compatible vehicles
User testimonials (with original source):
If you find this website helpful, please tell someone!