Nissan Sunny FLN6 test:

In plain text from source (scanned original email)
Good day bro
It's been 2 years since you installed my Twin Surbo..and I'm now (still) using it. It's great!!!
I've got a question: if I wish to change to an open pod, can you transfer that for me? Can you do the transfer for me (change the air filter box to the open pod and also transfer the Twin Surbo)? I might need an L bracket to support my Apexi open pod (can you do that???)
Where do you reckon the Surbo will be and how much will you charge for labour?
Will appreciate your advice. Thanks in advance.
Regards
Nissan Sunny FLN6
Fazni, Singapore
Note from Surbo Engineering: The Surbo should be in a pipe after the filter, and before any other air connection. The best way is to bring the car down, along with the installed purchased kits as well as the original parts (some of which may still be required), and we will try to fit the Surbo in. The normal change for a transfer of the Surbo only is $15 in Singapore.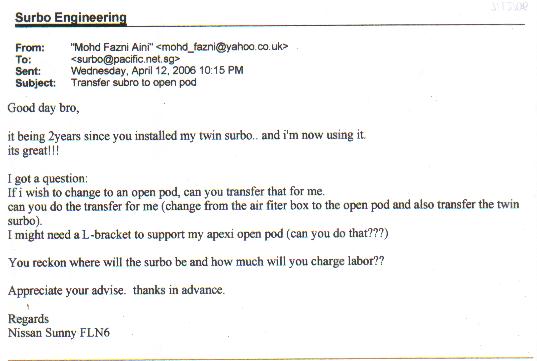 How Surbo transforms your car:
TESTIMONIALS:
TECHNICAL INFO:
Less knock (allows lower octane)
BENEFITS:
VEHICLES FITTED WITH SURBO:
ABOUT US:
SALES: