Nissan Sunny Auto test:

In plain text from source (scanned original email)
Recently, I got Mr Heng to fit the Twin Surbo for my Nissan Sunny EX Saloon CVTC 1.6 Auto (already with cold air induction and capsule done up). The test trial after installation showed the obvious change in the power of my car. I was surprised to have clocked 8 secs flat from 0-100 kph with my car as the stats for the Sunny 1.6 auto was 11.7 secs. I had a better top speed at 205 kph than the previous 185 kph. There is also better fuel economy at 12 km/l than the previous 9 km/l.
I would want to recommend this to all friends and I believe in improving my car at the lowest cost.
Thank you Mr Heng
Ce Zhuang Poo
Singapore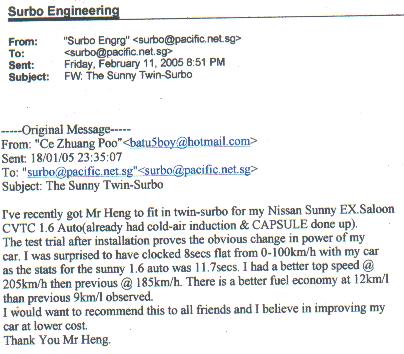 How Surbo transforms your car:
Faster acceleration, especially from standstill for automatic cars
Higher RPM capability, rev limit possible with just 1/2 throttle!
The Twin Surbo, 2 Surbos in series for even more low rpm torque
How Surbo increases engine compression at low rpm and prevents excessive compression at high rpm
How Surbo's increased air density enhances diesel technology, and raises peak RPM
Buy Surbo online with installation guide, if there's no dealer near you
Aftersales service and advice, on accessories or compatible vehicles
User testimonials (with original source):
If you find this website helpful, please tell someone!