Hyundai Atos test:

In plain text from source (scanned original email)
Hi Heng,
I have installed the single Surbo in my Atos (without purge line stopper) and the performance of my little Atos has improved. I'm quite surprised a little air gadget like Surbo can make the car more responsive. This afternoon, my mechanic used the Hi-Scan to diagnose the engine and eveything's running fine. No trouble codes.
Leslie
Malaysia
Surbo Engineering's comment: the purge can be stopped as an option if you ever feel the pressure escaping. As long as the purge switch is never pulled off, stopping the line physically by rubber plugs will not be detectable, unless there is a leak in the Surbo system.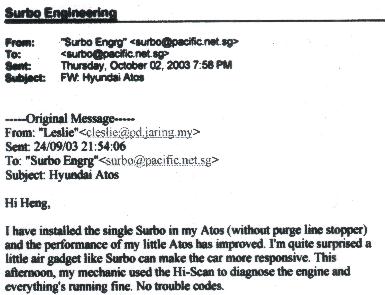 How Surbo transforms your car:
TESTIMONIALS:
TECHNICAL INFO:
Less knock (allows lower octane)
BENEFITS:
VEHICLES FITTED WITH SURBO:
ABOUT US:
SALES: