Perodua Kancil test:

In plain text from source (scanned original email)
Hi, my name is Saiful from Sg. Besi. I'm now using the Kancil 660 EX. I bought the car last year & made a small modification on shock absorbers, exhaust pipe & air itnake by using the open filter and pipe. The only problem with my Kancil was during overtaking & hill climbing, especially with 3 passengers. It seemed like a tortoise.
On June '04, my friend recommended me to test drive his car, the same as mine. I was in a shock because his car was more powerful than mine; it was like driving a Proton Wira 1.3. Then we stopped at the nearest petrol station & he showed me what he had done to his car, and showed me the Surbo which he installed in the filter pipe like mine.
Without any doubt, I asked him straightaway to fit the same thing to my car.
Now I don't face any problem during climbing & overtaking, and furthermore my Kancil is more powerful than ever. Salute to the great product SURBO.
Saiful
Malaysia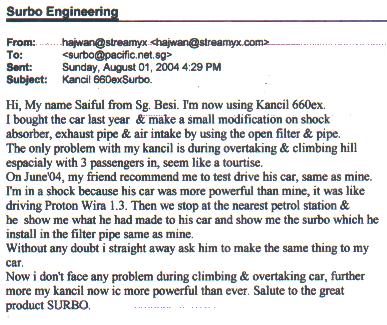 How Surbo transforms your car:
TESTIMONIALS:
TECHNICAL INFO:
Less knock (allows lower octane)
BENEFITS:
VEHICLES FITTED WITH SURBO:
ABOUT US:
SALES: