Perodua Kancil test:

In plain text from source (scanned original email)
Hi, my name is Saiful from Sg. Besi. I'm now using the Kancil 660 EX. I bought the car last year & made a small modification on shock absorbers, exhaust pipe & air itnake by using the open filter and pipe. The only problem with my Kancil was during overtaking & hill climbing, especially with 3 passengers. It seemed like a tortoise.
On June '04, my friend recommended me to test drive his car, the same as mine. I was in a shock because his car was more powerful than mine; it was like driving a Proton Wira 1.3. Then we stopped at the nearest petrol station & he showed me what he had done to his car, and showed me the Surbo which he installed in the filter pipe like mine.
Without any doubt, I asked him straightaway to fit the same thing to my car.
Now I don't face any problem during climbing & overtaking, and furthermore my Kancil is more powerful than ever. Salute to the great product SURBO.
Saiful
Malaysia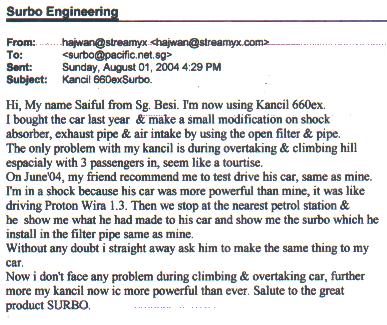 How Surbo transforms your car:
Faster acceleration, especially from standstill for automatic cars
Higher RPM capability, rev limit possible with just 1/2 throttle!
The Twin Surbo, 2 Surbos in series for even more low rpm torque
How Surbo increases engine compression at low rpm and prevents excessive compression at high rpm
How Surbo's increased air density enhances diesel technology, and raises peak RPM
Buy Surbo online with installation guide, if there's no dealer near you
Aftersales service and advice, on accessories or compatible vehicles
User testimonials (with original source):
If you find this website helpful, please tell someone!