Toyota Corolla '99 test:

In plain text from source (scanned original email)
I have been using the Surbo in my '99 corolla for 4 years and it has never let me down whenever I wanted to overtake others. Just do the "release and step" when the rpm is between 2500-3000 rpm and you will feel your body being pressed against your seat, especially in the first 3 gears.
Recently, I transferred the Surbo setup to my friend's 15 year old Corolla and immediately, my friend told me that he could feel that the accelerator was much lighter during the test drive. As for fuel consumption, I would reckon it is lowered by about 6-8 %.
Once my new car's warranty is over, I will definitely look for Heng to put the Surbo into my new ride. This is really GREAT STUFF for all cars.
Waimeng Wong
Singapore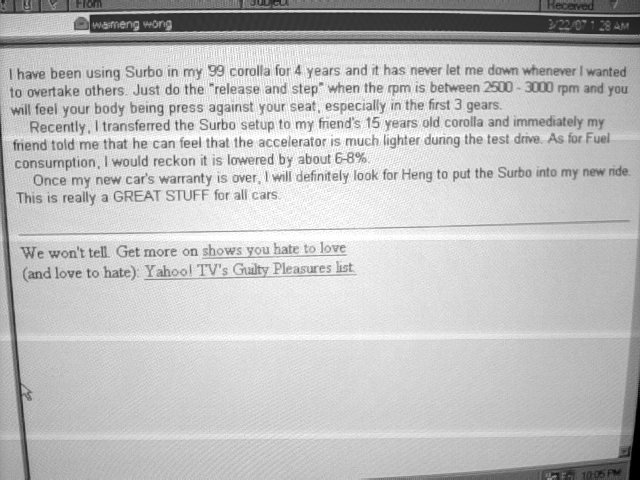 How Surbo transforms your car:
Faster acceleration, especially from standstill for automatic cars
Higher RPM capability, rev limit possible with just 1/2 throttle!
The Twin Surbo, 2 Surbos in series for even more low rpm torque
How Surbo increases engine compression at low rpm and prevents excessive compression at high rpm
How Surbo's increased air density enhances diesel technology, and raises peak RPM
Buy Surbo online with installation guide, if there's no dealer near you
Aftersales service and advice, on accessories or compatible vehicles
User testimonials (with original source):
If you find this website helpful, please tell someone!