Proton Wira 1.3i test:

In plain text from source (scanned original email)
Dear Heng
I just installed the Surbo on Tuesday. Wow, that thing is really something. Surbo really makes my 1.3 feel like a 1.6 or more. Thanks for the help that you had provided earlier. Now, I couldn't help myself testing the Surbo all night long.
Regards
Iskandar
Malaysia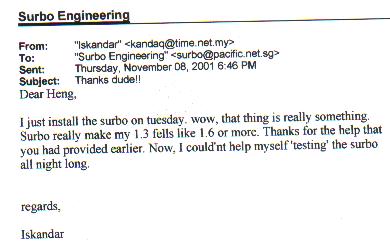 How Surbo transforms your car:
Faster acceleration, especially from standstill for automatic cars
Higher RPM capability, rev limit possible with just 1/2 throttle!
The Twin Surbo, 2 Surbos in series for even more low rpm torque
How Surbo increases engine compression at low rpm and prevents excessive compression at high rpm
How Surbo's increased air density enhances diesel technology, and raises peak RPM
Buy Surbo online with installation guide, if there's no dealer near you
Aftersales service and advice, on accessories or compatible vehicles
User testimonials (with original source):
If you find this website helpful, please tell someone!