Proton Wira 1.3i test:

In plain text from source (scanned original email)
Dear Heng
I just installed the Surbo on Tuesday. Wow, that thing is really something. Surbo really makes my 1.3 feel like a 1.6 or more. Thanks for the help that you had provided earlier. Now, I couldn't help myself testing the Surbo all night long.
Regards
Iskandar
Malaysia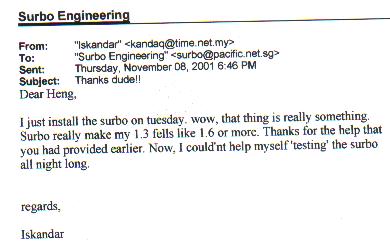 How Surbo transforms your car:
TESTIMONIALS:
TECHNICAL INFO:
Less knock (allows lower octane)
BENEFITS:
VEHICLES FITTED WITH SURBO:
ABOUT US:
SALES: