Proton Wira carb test:

In plain text from source (scanned original email)
Hi
I purchased Surbo for my car and it was installed to a carburetor. But now I have upgraded the car to fuel injection. Can it be fixed to the fuel injection system? If possible, I want to do it by myself. Are there any drawings or a how to fix guide, so that I can help myself?
For your info, I'm satisfied and really discovered a new way of driving improvement by using the powerful Surbo.
Thanks and regards
Murugan Ramayiah
Malaysia
Surbo Engineering's comments: you might like to try this Twin_Surbo-ready pipe design if you have a 3 inch metal pipe and cone filter. You can omit the upper Surbo section when installing just one Surbo.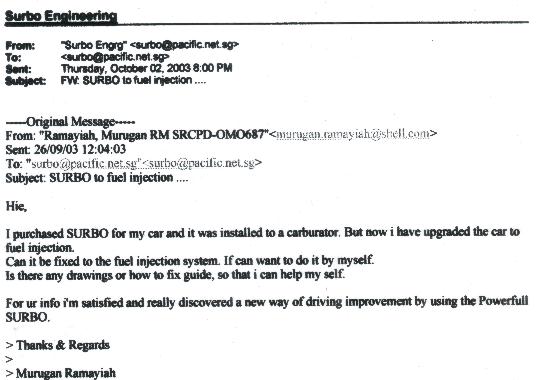 How Surbo transforms your car:
Faster acceleration, especially from standstill for automatic cars
Higher RPM capability, rev limit possible with just 1/2 throttle!
The Twin Surbo, 2 Surbos in series for even more low rpm torque
How Surbo increases engine compression at low rpm and prevents excessive compression at high rpm
How Surbo's increased air density enhances diesel technology, and raises peak RPM
Buy Surbo online with installation guide, if there's no dealer near you
Aftersales service and advice, on accessories or compatible vehicles
User testimonials (with original source):
If you find this website helpful, please tell someone!