Proton Wira carb test:

In plain text from source (scanned original email)
Hi
I purchased Surbo for my car and it was installed to a carburetor. But now I have upgraded the car to fuel injection. Can it be fixed to the fuel injection system? If possible, I want to do it by myself. Are there any drawings or a how to fix guide, so that I can help myself?
For your info, I'm satisfied and really discovered a new way of driving improvement by using the powerful Surbo.
Thanks and regards
Murugan Ramayiah
Malaysia
Surbo Engineering's comments: you might like to try this Twin_Surbo-ready pipe design if you have a 3 inch metal pipe and cone filter. You can omit the upper Surbo section when installing just one Surbo.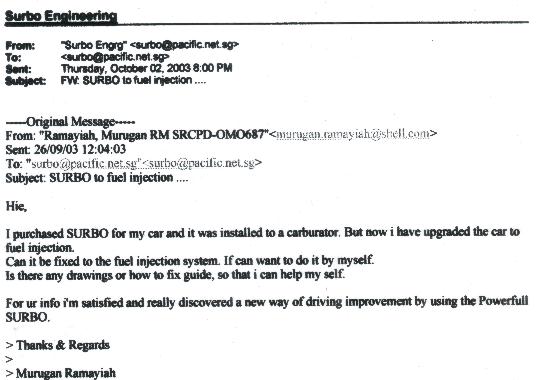 How Surbo transforms your car:
TESTIMONIALS:
TECHNICAL INFO:
Less knock (allows lower octane)
BENEFITS:
VEHICLES FITTED WITH SURBO:
ABOUT US:
SALES: