Proton Satria 1.3 VDO test:

In plain text from source (scanned original email)
Before I tell you further about what I felt after installing your product, here's my car's spec:
Proton Satria 1.3 VDO (most unresponsive engine in whole Proton Satria lineup), installed with HKS racing air filter (mushroom-like).
2 days ago I just installed a single Surbo on my car from my local dealer..I put it on my car after my friend told me to because I was too unhappy with my car's performance. I felt such torque after installing only 1 Surbo! After using single Surbo for a day, I called back my local dealer to upgrade to Twin Surbo. This product has its own WOW factor! Surbo is awesome! This is my first time feeling so satisfied spending money on my car. Thanks Surbo!
Sent from my Blackberry wireless device via Vodafone-Celcom Mobile.
23 Nov 2012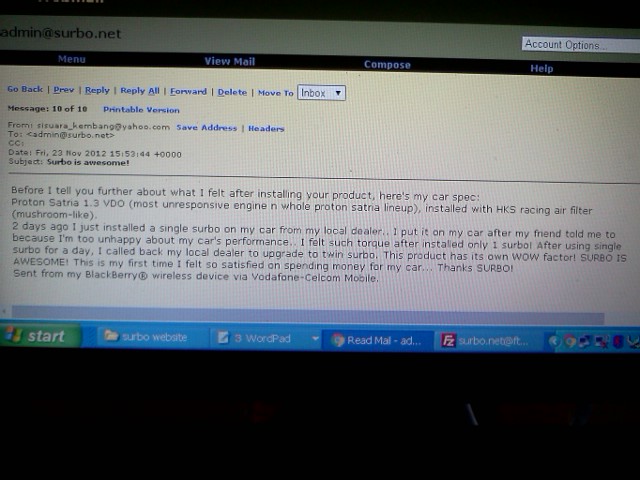 How Surbo transforms your car:
Faster acceleration, especially from standstill for automatic cars
Higher RPM capability, rev limit possible with just 1/2 throttle!
The Twin Surbo, 2 Surbos in series for even more low rpm torque
How Surbo increases engine compression at low rpm and prevents excessive compression at high rpm
How Surbo's increased air density enhances diesel technology, and raises peak RPM
Buy Surbo online with installation guide, if there's no dealer near you
Aftersales service and advice, on accessories or compatible vehicles
User testimonials (with original source):
If you find this website helpful, please tell someone!