Alfa 145 test:

In plain text from source (scanned original email)
Hi
You came over to install the Surbo on my blue Alfa 145 at CMPB the other day. Well, just to let you know that the silicone has dried and the Surbo works pretty well.
Anyway, some ideas to boost Surbo sales if you've not thought about them yet...
1. Officially brand name the Surbo and design a logo for it. Good products need even better marketing!
2. Supply and distribute Surbo stickers for the windows of installed cars as a form of advertising. (e.g. "Surbo-Charged", "Surbo-Boost", "Surbo-Inside"..etc)
3. Offer chat and bulletin board service on the Surbo home page for Surbo owners to discuss more about it. May just learn new ways of using/ adjusting it for better performance.
Just another satisfied Surbo customer,
Lee David
Singapore
Note from Surbo Engineering: Yes the Surbo has been trademarked, and if you have a good idea for a logo please send one. We do have Surbo stickers to be given out. Boards can go out of control sometimes, but if anyone has any good idea, we can share it on this page.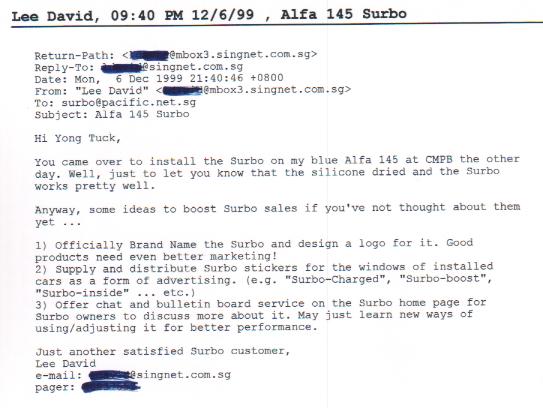 How Surbo transforms your car:
TESTIMONIALS:
TECHNICAL INFO:
Less knock (allows lower octane)
BENEFITS:
VEHICLES FITTED WITH SURBO:
ABOUT US:
SALES: