How to lengthen engine life
One simple way to do the above is to use a Surbo in your vehicle. What happens then?

1. With a Surbo, there will be more torque. This means the accelerator won't need to be pressed as much as before, so fuel input is less, and less harmful carbon deposits can accumulate in the engine.

2. For petrol engines: the engine can run on lower (=softer) compression (a smaller throttle opening results in a lower absolute manifold pressure, as shown on any boost or vacuum meter). For example, the Surbo sends the engine to its rpm red line with just half throttle instead of full throttle, meaning the same engine speed is achieved with lower absolute compression, so the compression forces in the cylinders are less and they will last longer. At high rpm, the Surbo helps the engine avoid knocking, as shown in the graph below.

Compression graph of a conventional petrol engine versus one with Surbo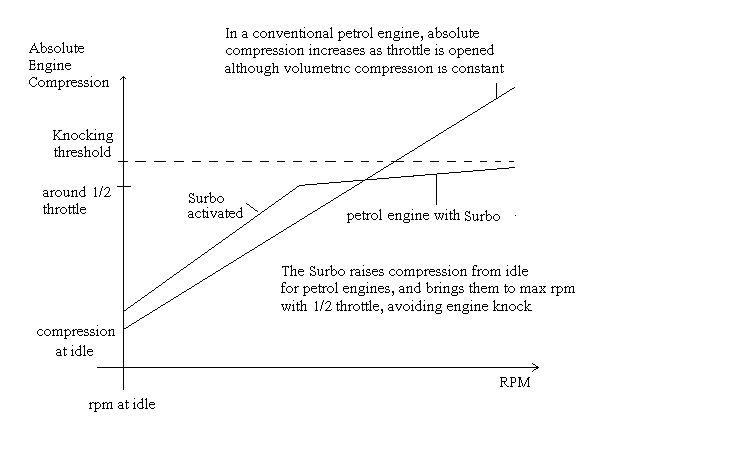 For diesel engines, which have no throttle and which thrive on higher compression for better ignition, the Surbo helps deliver higher net compression, and at just half accelerator pressure required to achieve the rpm limit, the diesel injected is also half, so combustion heat is lowered. For modern diesel vehicles with particulate filters, the filters will not clog up so soon, since less fuel injected means less soot produced.
3. With less fuel being put in due to a smaller throttle opening, engine knock tendency is reduced, and tolerance of lower octanes is increased.
4. Gearbox controls in Surbo-equipped automatic vehicles will be preserved, since Surbo activation and gearchanges can be effected via throttle control only, without needing to shift the gear lever to L or sport, for a lower gear.
5. A higher gear/ lower rpm can be used for the same speed, leading to less cylinder wear and tear.
6. Our airtight installation of the Surbo means that vacuum leaks will be eliminated, meaning no dirt can get into the engine, so avoiding wear and tear in the cylinder due to friction from grime. We rectify vacuum leaks due to normal wear and tear, or careless servicing by mechanics, or after air vacuum tube or air filter pipe modifications by third parties.
7. The higher torque with the Surbo means that clutching time will be cut down, whether your vehicle is manual or automatic, so reducing clutch wear.
8. There may be sufficient power and less of a need to look for other mods that can have damaging side effects on the engine or its peripherals. Examples are:
a. high-flow air filters with wire mesh which can allow fine dust into the air intake and clog the airflow meter sensor and cause irregularities or even an expensive replacement for the afm sensor. Many times the side seals are poor-fitting. This is because it is difficult to imitate original filter elements, which are firm in structure especially at the sides, whereas imitation or even "sport" or "free flow" filters cannot achieve the same rigidity and can bend and collapse after some time, under the filter lid pressure (and then loss of filter power occurs, and dirt also gets into the engine). The surbo, which promotes extra-high air flow, denecessitates these so prolonging the life of the afm sensor.
b. high-voltage spark systems and amplifiers, which have a short life and can cause burning. The engine with the surbo burns the air-fuel mixture cleanly and there is no need for these.
c. air pass devices that are fitted directly fitted to the manifold or even to the brake line in an attempt to bypass the throttle for more air at a low rpm. These are unsafe because they open up the vacuum in the manifold and cause the vacuum-powered brakes to be less sensitive, and excessive pumping can damage the brake master pump. The Surbo is safer with a tight vacuum connection, and provides more power than these devices.
Related pages:
How Surbo helps turbocharged engines last longer
Analysis of Surbo system shows how engine stress is redistributed and lessened when a Surbo is used.
How Surbo helps reduce engine knocking
How Surbo transforms your car:
Watch the video above showing how an engine revs with Surbo. Or watch it in conjunction with the How it works page.
Above: video of Volvo XC90 T8 with Surbo, sprinting to 130 kph.
Above: video of Volvo XC90 T8 with Surbo, sprinting to 211 kph.
Above: video of Volvo XC90 T8 with Surbo, sprinting to 224 kph.
TESTIMONIALS:

BENEFITS:
Higher top speed (easy cruising)
VEHICLES FITTED BY TYPE:

Installation Photos
TECHNICAL INFO:
Less knock (allows lower octane)
ABOUT US:
BUY SURBO IN COUNTRIES:
Afghanistan Aland Albania Algeria American Samoa Andorra Angola Anguilla Antarctica Antigua & Barbuda Argentina Armenia Aruba Ascension Island Australia Austria Azerbaijan Bahamas Bahrain Bangladesh Barbados Basque Country Belarus Belgium Belize Benin Bermuda Bhutan Bolivia Bonaire Bosnia & Herzegovina Botswana Bouvet Island Brazil British Indian Ocean Territory British Virgin Islands Brunei Darussalam Bulgaria Burkina Faso Myanmar Burundi Cambodia Cameroon Canada Cape Verde Catalonia Cayman Islands Central African Republic Chad Chile China Christmas Island Cocos (Keeling) Islands Colombia Comoros Congo-Kinshasa Congo-Brazzaville Cook Islands Costa Rica Côte d'Ivoire Croatia Cuba Curaçao Cyprus Czechia Denmark Djibouti Dominica Dominican Republic East Timor Ecuador Egypt El Salvador Equatorial Guinea Eritrea Estonia Ethiopia Falkland Islands Faroe Islands Federated States of Micronesia Fiji Finland France French Guiana French Polynesia French Southern & Antarctic Lands Gabon Galicia Gambia Gaza Strip Georgia Germany Ghana Gibraltar Greece Greenland Grenada Guadeloupe Guam Guatemala Guernsey Guinea Guinea-Bissau Guyana Haiti Heard Island & McDonald Islands Honduras Hong Kong Hungary Iceland India Indonesia Iran Iraq Isle of Man Israel Italy Jamaica Japan Jersey Jordan Kazakhstan Kenya Kiribati Kosovo Kuwait Kyrgyzstan Laos Latvia Lebanon Lesotho Liberia Libya Liechtenstein Lithuania Luxembourg Macau Macedonia Madagascar Malawi Malaysia Maldives Mali Malta Marshall Islands Martinique Mauritania Mauritius Mayotte Mexico Moldova Monaco Mongolia Montenegro Montserrat Morocco Mozambique Myanmar Namibia Nauru Nepal Netherlands New Caledonia New Zealand Nicaragua Niger Nigeria Niue Norfolk Island Northern Mariana Islands Norway Oman Palau Pakistan Panama Papua New Guinea Paraguay Peru Philippines Pitcairn Islands Poland Portugal lPuerto Rico Qatar Reunion Romania Russia Rwanda Saint Helena Saint Kitts and Nevis Saint Lucia Saint-Pierre and Miquelon Saint Vincent's & Grenadines Samoa San Marino Sao Tome and Principe Saudi Arabia Senegal Serbia Seychelles Sierra Leone Singapore Sint Maarten Slovakia Slovenia Solomon Islands Somalia South Africa South Korea South Sudan Spain Sri Lanka Sudan Suriname Svalbard and Jan Mayen Islands Swaziland Sweden Switzerland Syria Taiwan Tajikistan Tanzania Thailand Togo Tokelau Tonga Trinidad & Tobago Tunisia Turkey Turkmenistan Turks & Caicos Islands Tuvalu Uganda Ukraine UAE UK USA US Virgin Islands Uruguay Uzbekistan Vanuatu Vatican City Venezuela Vietnam Wallis & Futuna Yemen Zimbabwe